This is to inform all admitted students for Basic Nursing, Midwifery and Pre-Basic program that the dateline of registration for normal period remains 12th December, 2022. Failure to register within the stipulated time automatically invalidate your admission. 
Meanwhile, any complaints concerning the dateline should be channeled to the Office of the Registrar for approval of conditional late registration with a fine, and this should be before the expiration of the dateline. Any complaints/excuses after the dateline would not be entertained.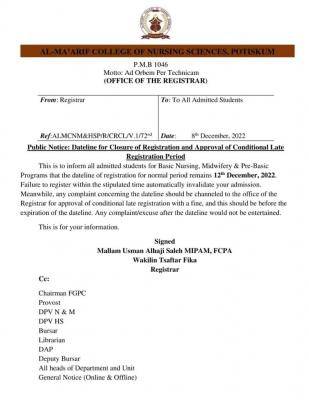 This is for your information 
SIGNED 
Mallam Usman Alhaji Saleh MIPAM, FCPA.
Wakilin Tsaftar Fika
REGISTRAR