Posted by OLUWAPELUMI
14th December, 2022   |   Comments
This is to inform all Staff and Students that the College will vacate for the Christmas and New Year celebrations from Monday, 19th December, 2022 to Sunday, 8th January,2023 to mark the yuletide season.
Accordingly, staff and students are expected to resume in the College on Monday, 9th January, 2023 as lectures would commence immediately.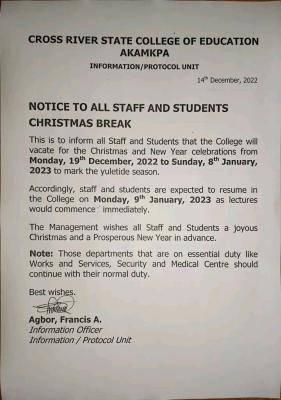 The Management wishes all Staff and students a joyous Christmas and a Prosperous New Year in advance.
Note: Those departments that are on essential duty like Works and Services, Security and Medical Centre should Continue with their normal duty
Best wishes.
Agbor, Francis A.
Information Officer
Information /Protocol Unit